WELCOME TO CROATIA
Croatia – a land of a thousand islands, magnificent nature, treasure trove of impressive history and gastronomy of different regions.
"OUR BEAUTIFUL HOMELAND"

By Antun Mihanovic (1796 – 1861)
The song "Our Beautiful Homeland" by Antun pl. Mihanovic was printed in a magazine "Danica" in 1835 and officially declared a Croatian hymn in 1891.
Our beautiful homeland,
O so fearless and gracious.
Our fathers' ancient glory,
May you be blessed forever.
Dear, you are our only glory,
Dear, you are our only one,
Dear, we love your plains,
Dear, we love your mountains.
Sava, Drava, keep on flowing,
Danube, do not lose your vigour,
Deep blue sea, tell the world,
That a Croat loves his homeland.
Whilst his fields are kissed by sunshine,
Whilst his oaks are whipped by wild winds,
Whilst his dear ones go to heaven,
Whilst his live heart beats!
The Croatian anthem was created much earlier than the Croatian state in the 20st century. It was written by Antun pl. Mihanovic in a period of revoking a national awareness of the European people in the 19th century and was published in the first magazine issued in the Croatian language – "Danica" in 1835. It was classified as a raising awareness song called "reveille" and become the anthem only 50 years afterwards.
The song was put in music by a military musician Josip Runjanin in Glina in 1846, in the period of ruling of Josip pl. Jelacic, and was officially made the anthem in Zagreb in 1891.
People who don't understand Croatian gladly listen to its festive, calm and beautiful intonation.
Many find it as one of the most beautiful and peaceful anthems in the world.
In everyday speech, Croatian people today equate the first verses of the anthem with the homeland.
ABOUT CROATIA

Natural beauties, historical and cultural heritage are Croatia uniqueness which attract more and more visitors each year. Croatia is proud to possess 8 national parks, areas with exceptional natural beauty and preserved ecosystems:
National Park Brijuni
National Park Kornat
National Park Krka
National Park Mljet
National Park Paklenica
National Park Plitvička jezera
National Park Risnjak
National Park Sjeverni Velebit
List of World Heritage Sites in Croatia

Historical Complex of Split with the Palace of Diocletian (1979)
The Emperor's Palace is one of the most significant objects of the late antique architecture not only for its level of preservation, but for various original architects forms which are announcing new early Christian, Byzantine and early Middle Aged art. The Mausoleum of Diocletian was transformed into the Christian church in the 5th century. Inside the palaces' Roman walls there is a harmony between Romanesque churches from the 12th and 13th centuries, Middle Ages fortresses and Gothic, Renaissance and Baroque palaces.
Official pages of the Town of Split
Old City of Dubrovnik (1979)
Dubrovnik, late Middle Ages planned city on the south Dalmatian coast became an important Mediterranean sea power in the 13th century. Although severely damaged by an earthquake in 1667, Dubrovnik managed to preserve its beautiful Gothic, Renaissance and Baroque churches, monasteries, palaces and fountains. Damaged again during the Independence War, Dubrovnik was included on the list of endangered world heritage of UNESCO in a period between 1991 and 1998.
Official pages of the Town of Dubrovnik
Plitvice Lakes National Park
The beauty and attractiveness of the Plitvice arose from the tuff and travertine plants. Plitvice Lakes National Park contains a series of 16 beautiful lakes, caves and waterfalls. These have been formed by processes typical of karst landscapes such as the deposition of travertine barriers, creating natural dams. It's a magnificent architectural nature phenomena surrounded by thick forests inhabited by bears, wolves and various rare animal and bird species.
Official pages of Plitvice Lakes National Park
Episcopal Complex of the Euphrasian Basilica in the Historic Centre of Poreč (1997)
The Episcopal Complex got its name by a bishop Euphrasius who thoroughly renovated the cathedral and decorated it with famous mosaics in the middle of the 6th century. Before Euphrasius, there were at least two phases of early Christians objects on the same site. Christianity was founded in Porec in the 4th century and the basilica, atrium, baptistery and episcopal palace represent religious architecture, while the basilica combines the elements of the classicism and Byzantium. Apse is lavishly decorated with mosaic which is one of the most significant of the kind in Europe.
Official pages of the Town of Porec
Historic City of Trogir (1997)
Trogir is a remarkable example of urban continuity. The orthogonal street plan of this island settlement dates back to the Hellenistic period and it was embellished by successive rulers with many fine public and domestic buildings and fortifications. Its beautiful Romanesque churches are complemented by the outstanding Renaissance and Baroque buildings from the Venetian period. The most significant object is a Cathedral with the Roman gateway (main west portal), master piece of the local architect Master sculptor Radovan and stands as an example of Roman-Gothic art in Croatia.
Official pages of the Town of Trogir

The Cathedral of St James in Šibenik (2000)
The Cathedral of St James in Šibenik built in a period between 1431 and 1535 bears witness to the considerable exchanges in the field of monumental arts between Northern Italy, Dalmatia and Tuscany in the 15th and 16th centuries. The three architects who succeeded one another in the construction of the Cathedral – Francesco di Giacomo, Georgius Mathei Dalmaticus and Niccolò di Giovanni Fiorentino – developed a structure built entirely from stone and using unique construction techniques for the vaulting and the dome of the Cathedral. The result is a harmony between stones, method of stacking and the cathedral ambience.
Official pages of the Town of Sibenik
Stari Grad Plain (2008)
The Stari Grad Plain is Croatia's 7th location protected by UNESCO, registered in 2008, on the 32th session of the UNESCO World Heritage Committee in Quebec, Canada.
Stari Grad Plain on the Adriatic island of Hvar is a cultural landscape that has remained practically intact since it was first colonized by Ionian Greeks from Paros in the 4th century BC. The original agricultural activity of this fertile plain, mainly centring on grapes and olives, has been maintained since Greek times to the present. The site is also a natural reserve. The landscape features ancient stone walls and trims, or small stone shelters, and bears testimony to the ancient geometrical system of land division used by the ancient Greeks, the chora which has remained virtually intact over 24 centuries.
Croatia's cultural and natural resources:
Blaca Hermitage Episcopal complex Forum in Zadar
Kornati with Telascica The Old Town of Korcula
Croatia Limes Primosten Vineyards
The Town of Motovun Northern Velebit
Watermelons on the Island of Cres The Old Town of Varazdin
Osijek Fortress Extension of the Diocletian's Palace and Historical Centre in Split
Historical urban area of Ston and Mali Ston Burg – Castle Veliki Tabor
Lonjsko polje
Stecci – Middle Ages tombstones
UNESCO Representative List of the Intangible Cultural Heritage of the world
General information:


Language: croatian
Currency: croatian kuna (HRK)
Population: 4.500.000 residents
Surface: 56.594 km2
Croatian National Tourist Board – official site
"For more information visit the official site
Croatian National Tourist Board www.croatia.hr"
Trip and Vacation
YOU ARE LOOKING TO HOW TO SPEND YOUR VACATION?
Sometimes, due to a lack of time, you fail to organize a quality and comfortable vacation, weekend or a day away on some destination call us for organization your trip and summer holiday.
ANTROPOTI VIP CLUB CONCIERGE SERVICE will organize for you all it takes to prepare you a trip or summer vacation you were looking for.
Excursions central Croatia
If you are planning a private or a business trip to Zagreb or any other destination in Croatia, the involvement of the private local travel guide is the best choice for you!
Your holiday or journey (marital / business / private) vacation (romantic weekend) or sightseeing will get a whole new dimension of luxury that you can afford!
We will provide you an easy reach of the best restaurants and clubs!
Even if you decide to spend just a few hours in the city, our travel guide will help you to not waste your precious time and that you don't miss your flight! Our educated and qualified travel companion will help you to experience an unforgettable experience but also gain some knowledge about the city or the country where you arrived!
Travel companion possibilities:
• Private travel guide
• Private Business travel guide for a few hours, for a day, for a several days
• Private three-day corporate trip
Travel guide for adult groups:
• 2 hours in the city
• All day
• Half a day
• The three-day trip
• More than three days
• Abroad
Party guide for adult groups:
• 2 hours in the city
• All day
• Half a day
• The three-day trip
• More than three days
10 reasons why hire a travel guide:

individual approach, flexibility
saving your time – guide will as quickly as possible take you to your destination
easily adapts to the needs of their guests
relaxed sightseeing, top recommendations and tips, culinary experience
If you are alone – you have someone to talk to, safety in an unknown city and country (robbery, theft …)
knowledge of basic historical and geographical data
knowledge of the state of law and order, easy to navigate in legal situations
knowledge of your language
passionate narrator; you will learn more than you thought about the city and the country where you arrived, a lot of detailed information, a lot of interesting stories from everyday city life and history
resourceful and organized, smiling, cordial, polite and always available, loves his job
Finding the right guide is the foundation of your pleasure. Our guides are professionals travel guides and companions, as well as members of the association.
Ivana Trošić, CEO and founder, is a certified travel companion who skillfully selects each qualified travel guide in Antropoti Team, backed by the excellent program of education, training and experience.
Our recommendation excursions
From a humble medieval Oppidum arising near the fort, Cakovec has grown today into a modern European city of the Central Croatian.
For tourists along with the historic old town, Zrinskih Castle and Franciscan Monastery offers excellent gastronomic offer, sports and entertainment activities, rich nightlife and numerous events throughout the year, such as "Carnival of Medimurje" and fair in the city center.
Kumrovec, Ethnographic museum "Staro selo
The idyllic village preserved its look typical of this region at the turn of the 19th to 20th century. Kumrovec is the largest open-air museum in situ in Croatia, and it truly guards the traditional heritage of Hrvatsko Zagorje region.
Archaic houses (hiže) conceal some very interesting scenes of the country style and culture of living, as well as the presentation of the traditional crafts.
The center of traditional crafts was recently opened in the village, as well, and many museum workshops, presentations of the old crafts and miscellaneous events are the reason for the increasing interest of visitors for visit the village.
Also, Kumrovec is the birth place of the former Yugoslavian President Josip Broz Tito, and his house of birth is in the center of the village and has been arranged as it was in the time of Tito's childhood, together with the interior of the Old school (Stara škola) that Tito once attended.
Čakovec
From a humble medieval Oppidum arising near the fort, Cakovec has grown today into a modern European city of the Central Croatian.
For tourists along with the historic old town, Zrinskih Castle and Franciscan Monastery offers excellent gastronomic offer, sports and entertainment activities, rich nightlife and numerous events throughout the year, such as "Carnival of Medimurje" and fair in the city center.
Gornja Stubica, Castle Oršić, The linden tree of Gubec
The Museum of the Peasant Uprisings with its new permanent exhibition that particularly emphasizes the Peasant Revolt of 1573 takes us to the feudal past of the Hrvatsko Zagorje region. Each year by the end of January the Museum denotes the anniversary of this significant event with interesting happenings.
The impressive Monument of the Peasant Revolt and its leader, Matija Gubec, is the work of sculptor Antun Augustinčić and tells us the bloody ballad of Stubica's 16th century life on a bronze relief. In June the area in front of the monument comes alive during the Knight's Tournament entertaining historical fans with diversified medieval pageants.
The Baroque Oršić manor, which houses the Museum, is built on the site of a medieval castle. Today it is surrounded by beautifully arranged gardens.
By the parish church of St. George stands the Linden tree of Gubec (Gupčeva lipa), which is over 400 years old and has been protected as natural heritage.
The space around the tree comes alive on Jurjevo with folklore music. Near by is the Rudolf Perešin's memorial park, and every year in May Meetings for Rudi remind numerous participants of this hero of the Croatian War.
The National Sanctuary of the Mother of god of Bistrica
Like many other places in Hrvatsko Zagorje, bistrica is first mentioned in 1209 in a charter in which King Andrew II of Hungary determines the boundaries of Count vratislav's feudal lands.
Although it is possible that a parish existed in bistrica even before, it is first mentioned in 1334 as the parish church dedicated to apostles Peter and Paul.
Samobor
Samobor is the most attractive place in the region of Zagreb and the cradle of the Croatian mountain climbing. In Samobor of historical sites there are King Tomislav Square, Samobor Old Town, Livadic Manor House from 17th century, Samobor Museum.
Events such as Carnival of Samobor and classic car rally are just a part of the rich tourism offer of Samobor and among the gourmets are particularly famous "kremsnite" cakes.
Trakošćan Castle
Trakošćan is one of the most attractive and most visited castles in Croatia, located on the hills of Croatian Zagorje. It was built in the 13th century and its distinctive architectural feature is Romanesque castles from the 12th and 13 century.
In 16th century the castle was taken over by Croatian Ban Juraj Draskovic for his personal use. He and his family remained its hereditary owners, with one brief interruption, until World War II.
Besides amazing faithful reconstruction of the castle which fully corresponds to 19th century, the castle Trakošćan contains valuable examples of baroque furniture, different weapons used from 15th to 19th century and other small items.
Moreover, a beautiful romantic gardens, built on the model of English parks, and a large lake in front of the castle is something that should not be missed.
Varaždin
Varazdin is located along the banks of the Drava river in northwestern Croatia. Varazdin is a city rich of history and was first mentioned in writing in 1181. year. City of Varaždin has nearly 50,000 inhabitants today and is one of the most developed cities in the Republic of Croatia.
It is an important cultural and social center and is widely known as a city of Baroque.
Veliki Tabor Castle
Veliki Tabor is one of the best preserved late medieval and Renaissance castles in the continental part of Croatia. Built by the noble Rattkay family during the 16th century, it stayed in their arms till 1793.
The oldest part of the complex is the central fortified building – donjon – used for dwelling and defence. Later in the 16th century four semicircular towers were built and in the 17th C. the rooms near the north wall were added.
Among the owners was a famous Croatian painter, Oton Iveković, whose brush depicted the castle and the picturesque scenery around in numerous paintings.
Winery and Vineyards Petrač
The winery and vineyards of the Petrač Company are located near the Krapina Spa, on the Hršak hill. The vineyards stretch on a total area of approx.
10 hectares, including white varieties such as Welsh riesling and Chardonnay and red varieties such as Sauvignon and Merlot.
For more details, number of persons, prices , tour programs, packages please contact us:
ANTROPOTI VIP CLUB CONCIERGE SERVICE ZAGREB – CROATIA
Ivana Trošić, Licensed Tour leader gsm: +385 91 157 87 27
e: travels@antropoti
Gastronomy
Zagreb read for one of the best places in Croatia to find good food because there is a large selection of well-known chefs and restaurants. You can try some of the foods that you've never had the chance to try out earlier and which at the same time have a great tradition.
Depending on the type of food you are searching for, Antropoti VIP club personnel will know what to recommend, restaurants that are popular for themselves, due to the superior quality of its products and the services they provide.
Antropoti VIP Club will give you a suggestion of what is good and what is bad.
You can visit the restaurant before you went out to lunch / dinner, or even check online. These basic information will give you an indication of what kind of place it is, as well as the type of food you are offering. Antropoti VIP Club will give you a good indication of some of the most popular places to eat in town, go out and arrange transportation or even make reservations.
Direction for finding top quality food in Zagreb by tested recipes the one that is most recommended by Antropoti VIP Club.
be@V.I.P.
ELITE GASTRONOMY
In order to achieve the superb service for our VIP clients, in cooperation with Gastronomadi, we can fulfill all your gastronomic wishes weather preparing food for many guests, smaller group or cooking for VIP private events with special discretion.
Antropoti VIP Club can also organize cooking classes with VIP approach, leaving you to choose from our database one of the best and world-renowned chefs in Croatia.
Antropoti VIP Club, with its organization, will provide you gastronomic pleasure while having lunches or diners or for any other events according to your wishes.
Antropoti gastronomical elitism is very important for the haute cuisine is not the one only served in elite restaurants in Croatia and abroad. The grande cusine is the art of cooking, carefully choosing ingredients for cooking, food preparation, serving the food, look and taste of each bite.
Antropoti VIP Club will fulfil all your gourmet wishes throughout Croatia, using either Croatian or foreign cooking recipes and organize preparation of vert tasty delicatessen by the best gourmet experts.
CORPORATE EVENT
LUNCH/DINER
You will find out that Zagreb is the city with tastes from all around the world: French, Italian, Japanese, Mediterranean, Mexican, autochthonous Croatian. Regardless of the range of your tastes, you will find yours here.
The Antrpoti VIP Club stuff can give you suggestions or reserve the best city restaurants. We are here for you, with our lunch/diner packages in the most beautiful restaurants with a goal to provide you satisfaction and comfort.
For your organization needs a corporate lunch / dinner call:
Mobile: + 385 91 157 87 27 or E-mail: info@antropoti.com
the capital of the Republic of Croatia
Welcome to Zagreb, the capital city of the Republic of Croatia. Zagreb is an old Central European city. For centuries it has been a focal point of culture and science, and now of commerce and industry as well. It lies on the intersection of important routes between the Adriatic coast and Central Europe.
When the Croatian people achieved their independence in 1991, Zagreb became a capital – a political and administrative centre for the Republic of Croatia. Zagreb is also the hub of the business, academic, cultural, artistic and sporting worlds in Croatia. Many famed scientists, artists and athletes come from the city, or work in it. Zagreb can offer its visitors the Baroque atmosphere of the Upper Town, picturesque open-air markets, diverse shopping facili­ties, an abundant selection of crafts and a choice vernacular cuisine. Zagreb is a city of green parks and walks, with many places to visit in the beautiful surroundings. In spite of the rapid development of the economy and transportation, it has retained its charm, and a relaxed feeling that makes it a genuinely human city.
Facts and Figures

Location: northern Croatia, on the Sava River, 170 km from the Adriatic Sea 45° 10′ N, 15° 30′ E situated 122 m above sea level
Time: Central-european time (GMT+1) Climate and Weather: continental climate average summer temperature: 20° C average winter temperature: 1° C current forecast
Population: 790.017 (2011.) Surface area: 650 sq. km.
Institutions: The University 19 theatres 24 museums 65 galleries and art collections
About Zagreb
A Brief History of Zagreb
Today's Zagreb has grown out of two medieval settlements that for centuries developed on neighbouring hills. The first written mention of the city dates from 1094, when a diocese was founded on Kaptol, while in 1242, neighbouring Gradec was proclaimed a free and royal city. Both the settlements were surrounded by high walls and towers, remains of which are still preserved.
During the Turkish onslaughts on Europe, between the 14th and 18th centuries, Zagreb was an important border fortress. The Baroque reconstruction of the city in the 17th and 18th centuries changed the appearance of the city. The old wooden houses were demolished, opulent palaces, monasteries and churches were built. The many trade fairs, the revenues from landed estates and the offerings of the many craft workshops greatly contributed to the wealth of the city. Affluent aristocratic families, royal officials, church dignitaries and rich traders from the whole of Europe moved into the city. Schools and hospitals were opened, and the manners of European capitals were adopted. The city outgrew its medieval borders and spread to the lowlands. The first parks and country houses were built. Zagreb confirmed its position as the administrative, cultural and economic centre of Croatia.
When Kaptol, Gradec and the surrounding settlements were administratively combined into the integrated city of Zagreb in 1850, the development accelerated still more. The disastrous earthquake of 1880 sparked off the reconstruction and modernization of many shabby neighbourhoods and buildings. Prestigious public buildings were erected, parks and fountains were made, and transportation and other infrastructures were organized.
In the 19th century the population increased tenfold. The twentieth century brought the Secession style to Zagreb. The city lived in the plenty of a civil society, with firm links with all the central European centres. With an increase in wealth and industry from the 1960s on, the city spread out over the wide plains alongside the Sava River, where a new, contemporary business city has develop.
Overview of Important Historical Events
ca 600 AD Decline of the ancient Roman settlement of Scitarjevo (Andautonia). Arrival of the Croats. The earliest evidence of their existence in this area are the graves on Visoki Brijeg in Velika Gorica.
879. Decline of the ancient Roman settlement of Scitarjevo (Andautonia). Arrival of the Croats. The earliest evidence of their existence in this area are the graves on Visoki Brijeg in Velika Gorica.
1094. The Hungarian King Ladislas establishes the Zagreb Diocese.
1134. Issue of Felicianus' Charter mentioning the founder of the Diocese, King Ladislas, the first bishop of, Zagreb Bishop Duh, and the other clergy.
1217. Finishing and consecration of the principal church cathedral, largely destroyed in 1242 by the Tatars.
1242. The Croatian-Hungarian King Bela IV grants the Golden Bull to Gradec, as a token of appreciation for the citizens who provided him shelter during the Tatarian invasion.
1355. Mention of the first pharmacy in Zagreb.
1557. Another threat to the city – Turkish invasions. The first mention of Zagreb as the capital of Croatia.
1607. Foundation of the Jesuit gymnasium with six forums.
1624. A great fire caused by a thunderbolt catches the wooden roof of the principal church. Great fires were quite frequent before the use of bricks as building material.
1664. Foundation of the first printing house by the Jesuits.
1669. The Croatian-Hungarian King Leopold I grants the right to the Royal Academy to be transformed into a university.
1767. The Royal Council designates Varaždin as its temporary seat.
1771. The first weekly in Latin published in Zagreb – Ephemerides Zagrebienses.
1776. The government seat relocated from Varazdin to Zagreb.
1834. The first permanent theatre in Zagreb opens on the southern side of St. Mark's Square.
1850. Zagreb becomes a single administrative unit. The first major of the city is Josip Kamauf, former magistrate of Gradec.
1862. Opening of the first railway line, Zidani Most-Zagreb-Sisak.
1880. A severe earthquake strikes the area of Zagreb.
1891. The first horse-drawn tram in the streets of Zagreb. First electric driven tram was in service in 1905.
1896. The first film projection in Zagreb.
1901. The first automobile on the streets of Zagreb.
1909. The first trade exhibition – Economic Convention ("Gospodarski zbor").
1926. The first radio station starts broadcasting (also the first in this part of Europe).
1956. The first broadcast of Zagreb television.
1957. Construction of new housing blocks starts on the southern bank of the Sava river.
1964. A raging flood strikes Zagreb in the night between October 24 and 25. In the most difficult flood ever, several thousand homes are badly damaged.
1979. Tram lines cross the Sava river.
1987. The University Games take place in Zagreb.
1990. The first session of the Croatian Parliament (Sabor) after the first free, democratic, multi-party elections take place on May 30.
Meet Zagreb's and Croatia's offer on the best shops, café bars, restaurants and clubs.
You can find photos and information about Zagreb here.
Women from Zagreb and outwear

Don't get surprised to see dressed up women in Zagreb in the middle of the day, walking on high heels and hurrying to catch a tram, bus or train.
Women in Zagreb put lots of care in their appearances to emphasize their good looks and new clothes when drinking a coffee on a famous Saturday "spica" between 10am to 12pm. Besides this top looking women in the middle of the day even when it's not a special occasion, you will also meet next-door girls often lacking a style.
Zagreb is truly a city which lives fashion, beauty and style.
Where to shop in Zagreb?
Zagreb is a city with huge shopping offer. With chains of shopping malls, Zagreb offers many different brands, including luxury brands so every VIP client will find it interesting.
Discover the city centre rich in shopping malls, Cvjetni square, Kaptol square, Importanne and Branimir Centre. On the outskirts of Zagreb there are Avenue Mall, Garden Mall, City One, City Two, Arena centar and outlet centres Roses and St Helena where you can save lots on designers clothes, shoes and children clothing. West Gate, 20 min away from the centre of Zagreb, is the biggest in Europe.
In order to save your feet, time and money and in the end not finding what you are looking for, Antropoti VIP will assist and help you find the perfect styling.
Life in Zagreb
Zagreb is Croatia's capital with a special lifestyle. All roads from other Croatian small towns lead to Zagreb. Its rapid expansion over the past decade has led to a large amount of construction, especially shopping malls, but still maintains its old glamour, charm and history.
The Croatian metropolis really offers peaceful and agreeable life to its habitants unlike many other worlds' capitals.
For more information about Zagreb and the surrounding area through cultural and other events, visit the page

Zagreb Tourist Board www.zagreb-touristinfo.hr
Night Life in Zagreb

Zagreb is small comparing to other worlds metropolis, but it's a city where you can always enjoy and have something special to do and see.
Night life in Zagreb varies from glamorous clubs to the top restaurants.
You can enjoy in live music in elite restaurants or different programs in the top clubs.
Zagreb and the ANTROPOTI VIP CLUB have a lot to offer and we are here for you, to help you have a superb fun.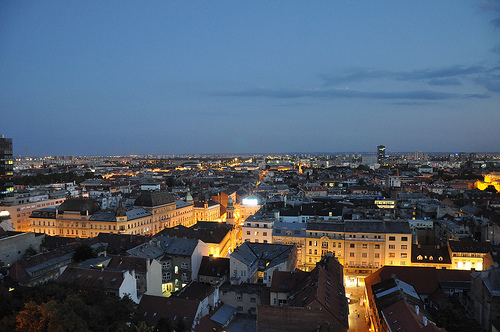 Night Clubs

Zagreb offers diverse music program in the night clubs and restaurants. The ANTROPOTI VIP CLUB offers you packages that comprise the most interesting and requested exclusive places for evening outs. Zagreb night clubs are famous for their extravagance. Hemingway Bar Zagreb, Split and Opatija, with their diverse programs, always make unforgettable moments.
If you are looking for extra service, we can provide you a private table, bottle service, host and limousine transportation.
How to Have Fun in Zagreb Night Clubs
If you are trying to get a VIP table in the best Zagrebs' clubs, you need to know how to get it and most probably you will not be able to get any, especially not a VIP table. Taking into consideration that they are in high demand, booking of a VIP table in Zagreb is not that easy as booking it in other Croatian towns.
In order to succeed in booking a VIP table in any popular Zagreb's club, you need to be familiar with a demanding procedure, which in the most cases brings no results.
And even if you succeed, you will find other dissatisfying elements. The best way to avoid any disappointment is to talk directly to the VIP host. This is the only way to get a VIP table in the best clubs in Zagreb.
ANROPOTI VIP CLUB is here for you so you can relax and have fun, and get the best service for your invested time and money. By choosing a VIP package you will make sure to get an unforgettable evening in a night club. Being served by our stuff will give even better feeling of treatment to you and your company and make you feel a real VIP.
Secured transportation, VIP entrance to the best clubs in Zagreb, private space booked reserved only for you together with a bottle of two of your favourite premium drinks and attractive hostesses/hosts – once you choose the ANTROPOTI VIP CLUB service, you become our companion having superb evening outs in Zagreb.
Host services


Clubs in Zagreb are usually crowded and the number of people allowed to enter is limited. If you want to make sure to enter the club without waiting, have a reserved table, we recommend you to engage a host.
This is not a classical host you are used to get in, different restaurants and other specialized services for Zagreb's night life.
ANTROPOTI VIP CLUB offers this unique host service in Zagreb – on our website you can search through all the places and book a top evening out, getting all inclusive offer of the exclusive night clubs as a VIP client of the Antropoti VIP Club.
VIP PACKAGES
Are you tired of being in charge of organizing parties?
Have you lost enourmous amount of time looking for a right person who is in charge of booking a table and services in a night club?
If your answer on this question is affirmative, the ANTROPOTI VIP CLUB is the answer to your all problems.
The ANTROPOTI VIP CLUB offers superb all inclusive party packages, from included limousine transportation to a VIP night club, top restaurants – with affordable parties for a glamorous night. We also offer VIP packaged for ladies and gentleman who are not looking for a host.
Every new satisfied VIP client is our new aspiration for even better business success.
Corporate event
LUNCH/DINER
You will find out that Zagreb is the city with tastes from all around the world: French, Italian, Japanese, Mediterranean, Mexican, autochthonous Croatian. Regardless of the range of your tastes, you will find yours here
The Antrpoti VIP Club stuff can give you suggestions or reserve the best city restaurants.
We are here for you, with our lunch/diner packages in the most beautiful restaurants with a goal to provide you satisfaction and comfort.
For your organization needs a corporate lunch / dinner call:
gsm: + 385 (0) 91 157 87 27
Transportation
When you are thinking about getting from one place to another in a group of people for an evening out, birthday, bachelor or bachelorette party, for sure it doesn't sound fun anymore as it's supposed to be. ANTROPOTI VIP CLUB will organize transportation for all your business or personal needs.
Limousine with seats for four people, or six to ten people, or even luxury Hummer H2 for up to 18 people, each luxury equipped and practical.
Depending on the size and your/your company purposes, we know how and where you will be fully satisfied and VIP.
If you are having a corporate event in Zagreb and Croatia, please feel free to call our experts and discuss your requirements and details.
LIMOUSINE TRANSPORTATION
Luxury limousine transportation – 3 hours with standing on agreed stations and included drink
Luxury limousine airport transfer
Luxury limousine transportation outside Zagreb
Luxury limousine transportation – 1 hour with included drink
Limousine types:
LINCOLN TOWN CAR 10m
LINCOLN TOWN CAR 12m
EXCALIBUR 10m
CHRYSLER 300C TUNING 10m
ANTROPOTI VIP SERVICES
FOR CORPORATE PARTIES
Antropoti VIP will provide to your company unique and superb experience at the party when planning a corporative event and destination management.
Professional stuff of the ANTROPOTI VIP CLUB can organize all elements necessary for your corporative party in Zagreb and Croatia.
Limousine transportation, business lunches/diners packages, best restaurants and hotels in Zagreb and Croatia, entrance to exclusive VIP night clubs in Zagreb including table reservations, bottle service and professional hostesses.
The best service of the corporate party is the ANTROPOTI VIP.
Zagreb, Croatia and ANTROPOTI VIP will meet all you expectations and make your corporative event memorable.
Please call this number to engage our services for corporative events and destination management –
gsm: +385 (0) 91 157 87 27
HOTELS IN ZAGREB

Usluge hotelskog smještaja

HOTELI *****
Ime hotela
Adresa:
Telefon:
ESPLANADE ZAGREB
Mihanovićeva 1, 10000 Zagreb
01/4566 666
SHERATON ZAGREB HOTEL
Kneza Borne 2, 10000 Zagreb
01/4553 535
THE WESTIN ZAGREB
Kršnjavoga 1, 10000 Zagreb
01/4892 000
HOTELI ****
HOTEL DUBROVNIK
Ljudevita Gaja 1, 10000 Zagreb
01/4863 555
HOTEL INTERNATIONAL
Miramarska 24, 10000 Zagreb
01/6108 800
ARCOTEL ALLEGRA
Branimirova 29, 10000 Zagreb
01/4696 000
HOTEL ANTUNOVIĆ
Zagrebačka avenija 100A, 10000 Zagreb
01/2041 121
HOTEL ARISTOS
Cebini 33, Buzin
01/6695 900
HOTEL AS
Zelengaj 2, 10000 Zagreb
01/4609 111
FOUR POINTS BY SHERATON
PANORAMA ZAGREB
Trg Krešimira Ćosića 9
tel. 01/3658 333
HOTEL KORANA – SRAKOVČIĆ
Perivoj Josipa Vrbanića 8, 47000 Karlovac
tel. 047/609 090
PALACE ZAGREB
Strossmayerov trg 10, 10000 Zagreb
01/4899 600
HOTELI ***
01/4841 122
HOTEL CALYPSO
Hojnikova 43, 10250 Lučko – Zagreb
01/6530 000
HOTEL CENTRAL
Branimirova 3, 10000 Zagreb
01/4841 122
HOTEL "HOLIDAY"
Jankomir 27, 10090 Zagreb
01/3496 621
HOTEL "I"
Remetinečka 106, 10020 Zagreb
01/6141 222
HOTEL PANONIJA
Ivana Kukukljevića Sakcinskog 21, 44000 Sisak
044/515 600
HOTEL REBRO
Kišpatićeva 12, 10000 Zagreb
01/8886 900
LAGUNA
Kranjčevićeva 29, 10000 Zagreb
01/3047 000
AK SNJEŽNA KRALJICA
Sljeme bb, 10000 Zagreb
01/4604 555
THE MOVIE HOTEL – ZAGREB
Savska cesta 141, 10000 Zagreb
01/6003 600
TOMISLAVOV DOM
Sljeme bb, 10000 Zagreb
01/4560 600
HOSTEL ARENA
Remetinečki Gaj 28, 10020 Zagreb
01/6140 042
HOTEL DREAM
Fausta Vrančića 12, 10410 Velika Gorica
01/6215 344
For reservations of accommodation please contact us at:
gsm: + 385 91 157 87 27 or e: info@antropoti.com
CULTURE
Zagreb is a cultural centre of Croatia.
There are dozens of theatres in the heart of the city and numerous concert halls. Especially significant is education of young artists.
Zagreb is the European centre for modern and alternative artist movements. Zagreb is the centre of publishing, film and video production in Croatia.
For reservations please contact us at:
gsm: + 385 91 157 87 27 or e: info@antropoti.com
ZAGREB RESTAURANTS

| | | |
| --- | --- | --- |
| NATIONAL RESTAURANT | | |
| Name of the restaurant: | Address: | Phone: |
| BALTAZAR | Nova Ves 4, Zagreb | 01/4666 824 |
| GASTRO GLOBUS | Avenija Dubrovnik 15, Zagreb | 01/6554 377 |
| ISABELLA | Vinogorska 55, Sesvete | 01/2006 373 |
| KAPTOLSKA KLET | Kaptol 5, Zagreb | 01/4814 838 |
| LIDO | Malo Jarunsko jezero bb, Zagreb | 01/3832 837 |
| OKRUGLJAK | Mlinovi 28, Zagreb | 01/4674 112 |
| PLJEŠIVIČKA KLET | Staglišće 23, Zagreb | 01/3695 088 |
| POD MIRNIM KROVOM | Fijanova 7, Zagreb | 01/2323 155 |
| PRI ZVONCU | XII Vrbik 1, Zagreb | 01/6198 473 |
| STARI FIJAKER 900 | Mesnička 6, Zagreb | 01/4833 829 |
| STARI PUNTIJAR | Gračanska 65, Zagreb | 01/4873 829 |
| ŠESTINSKI LAGVIĆ | Šestinska cesta bb, Zagreb | 01/4674 417 |
| TRNJANKA | Trnjanska cesta 31, Zagreb | 01/6119 685 |
| VALLIS AUREA | Tomićeva 4, Zagreb | 01/4831 305 |
| VINODOL | Nikole Tesle 10, Zagreb | 01/4811 341 |
| ZELEN DVOR | Samoborska 170, Zagreb | 01/3496 222 |
| RESTAURANTS INTERNATIONAL | | |
| Name of the restaurant: | Address: | Phone: |
| ATLANTA bocca MARAI | Miramarska 22, Zagreb | 01/6170 207 |
| KLUB KNJIŽEVNIKA | Trg bana J. Jelačića 7, Zagreb | 01/4812 290 |
| KLUB MAKSIMIR | Oboj 1, Zagreb, Zagreb | 01/2341 189 |
| MARCCELINO | Jurjevska 71, Zagreb | 01/4677 111 |
| STARA VURA | Opatička 20, Zagreb | 01/4851 368 |
| INTERNATIONAL AND SPECIALIZED KITCHEN | | |
| Name of the restaurant: | Address: | Phone: |
| Japanese cuisine | | |
| HANAFUDA | Zagorska 55, Zagreb | 091 5878 033 |
| TAKENOKO | Nova Ves 17, Zagreb | 01/4860 530 |
| Chinese cuisine | | |
| ASIA | Nova Ves 88, Zagreb | 01/4667 826 |
| KINESKI ZMAJ | Sigetje 52, Gajnice, Zagreb | 01/3453 892 |
| KINESKI GRAD | Zagrebačka ulica 191, Zagreb | 01/3887 171 |
| TIAN TAN | Okička 10, Zagreb | 01/3638 130 |
| CHINA GARDEN | Nikole Andića 29, Zagreb | 01/6637 788 |
| CHINE HOUSE | Rapska 63a (Šipanska 16), Zagreb | 01/6187 500 |
| Mexican cuisine | | |
| CARAMBA | Savska cesta 30, Zagreb | 01/4848 570 |
| KARAKA | Andrije Hebranga 12, Zagreb | 01/4817 170 |
| MEX CANTINA | Savska 154, Zagreb | 01/6192 156 |
| Fish the kitchen | | |
| AS | Zelengaj 2a, Zagreb | 01/4609 222 |
| BOTA – JADRAN | Zvonimirova 124, Zagreb | 01/2316 745 |
| BOTA ŠARE | Nova Ves 5, Zagreb | 01/4668 039 |
| DIDA | Petrova 176, Zagreb | 01/2335 693 |
| DUBRAVKIN PUT | Dubravkin put 2, Zagreb | 01/4834 970 |
| HIPPODROME | Cimermana 5, Zagreb | 01/6522 902 |
| KORČULA | Nikole Tesle 17, Zagreb | 01/4872 159 |
| LEUT | Jarunska obala bb – Aleja mira, Zagreb, | 01/3831 595 |
| LOPUD | Kaptol 10, Zagreb | 01/4818 775 |
| PRIMOŠTEN | Prisavlje 14, Zagreb | 01/6691 255 |
| RIBARSKI BREVIJAR | Kaptol 27/1, Zagreb | 01/4829 999 |
| Italian cuisine | | |
| BOBAN | Gajeva 9, Zagreb | 01/4811 549 |
| GALLO | Hebrangova 34, Zagreb | 01/4814 014 |
| LEONARDO | Skalinska 6, Zagreb | 01/4873 005 |
| LR | Palmotićeva 13, Zagreb | 01/4810 334 |
| RISTORANTE "SORRISIO" | Ruđera Boškovića 11, Zagreb | 01/4876 392 |
| TRATTORIA FELLINI | Savska 90, Zagreb | 01/6177 545 |
| Vegetarian cuisine | | |
| VEGEHOP | Vlaška 79, Zagreb | 01/4649 400 |
| NOVA | Ilica 72/I, Zagreb | 01/4810 059 |
| PUBS | | |
| Name of pub: | Address: | Phone: |
| DUBLIN PUB | Maksimirska 75, Zagreb | 01/2360 493 |
| THE MOVIE PUB | Savska 141, Zagreb | 01/6055 045 |
| PIVNICA MEDVEDGRAD | Božidara Adžije 16, Zagreb | 01/3646 546 |
| PIVNICA ZLATNI MEDO | Savska cesta 56, Zagreb | 01/6177 119 |
| PIZZERIE | | |
| BASCHIERA | Trg senjskih uskoka 7, Zagreb | 01/3698 999 |
| PIZZERIA 2 | Nova Ves 2, Zagreb | 01/4666 111 |
| MASLINA | Stupnička 14, Zagreb | 01/6191 225 |
| STARA SAVA | Savska cesta 208, Zagreb | 01/3633 333 |
Croatian Women & Beauty
Croatian women are indeed one
of the most beautiful in the world,
with a sense for an iconic style.
They know how to dress up and look excellent.
You will surely agree that there is an always present thought of a certain stereotypes of women, and thus also the Croatian women.
There are often prejudices, mostly as a result of ignorance and many of these stereotypes are far from the reality. The fact is that to be a Croat woman means a different tradition and culture depending on if a woman comes from Zagreb, Slavonia, Dalmatia, Istria or Dubrovnik.
Each of them thinks differently, leaving an individual stamp according to her lifestyle in the region she grew up and represents the unique beauty of the Croatian woman, completely different from the women from around the world.
Many agencies conduct surveys on how much money Croatian women spend on beautification.
Although with low incomes, Croatian women will spend lots on expensive make-up, clothes, shoes, gym, diet and healthy eating – all it takes to look more beautiful and attractive.